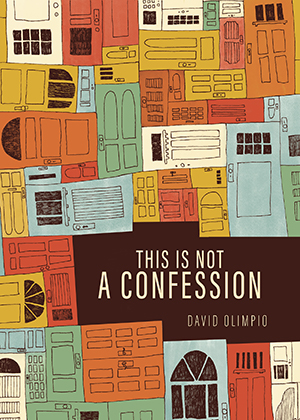 THIS IS NOT A CONFESSION
Through these powerful and insightful essays, David Olimpio explores the residual effects of sexual abuse, divorce, and grief. With surprising candor and a disarming sense of humor, Olimpio takes on the outwardly-wholesome landscape of his childhood spent in a suburban Houston neighborhood and the complex sexual relationships in his adult life. Both poignant and poetic, This is Not a Confession leaves us with a sense that our identities have the power to transcend our circumstances.
ORDER:
Even though you can get it on Amazon, you can also order it from Small Press Distribution, or have your local independent bookseller order it from them for you.


PRAISE FOR THIS IS NOT A CONFESSION:
Olimpio has a knack for pulling on a strand of memory and following it until it leads to a truth about himself, about the world. His other knack is finding memories so ubiquitous that the final implication of them is an indictment of the reader, as much as the author.
— Eric Shonkwiler, Author of Above All Men, and 8th Street Power & Light.
THIS IS NOT A CONFESSION … is risky, and David Olimpio's voice is modern and insightful. He has found a way to share his journey without ego or shame, and arrives at the center of one of the most important questions we can ask ourselves: "Who am I and how did I get here?" Olimpio answers this question with a fearless, sometimes heartbreaking, honesty that speaks truth to the human experience.
— Janna Marlies Maron, Editor & Publisher, Under the Gum Tree
In the end, our stories are the most powerful things we have," David Olimpio writes in THIS IS NOT A CONFESSION. Born not of a singular form but forged from many – essay, memoir, hybrid, collage – this book is as textured and varied as the human experience. It may defy easy classification, but readers will agree: here is an unforgettable debut that will shatter you. With devastating honesty and keen, poetic insight, Olimpio captures the fluidity of time and selfhood as he pierces the heart of the age-old question: What makes us? "We create our memories; they do not create us.
— Sara Lippmann, author of Doll Palace: Stories
The ambiguity of time, the confusion of numbers, the cycle of cicadas and the Big Bad Wolf, these are just some of the elements that David Olimpio softly wraps around us before pulling us seamlessly into his past. Heart-wrenchingly brutal memories laid out honestly on the page, THIS IS NOT A CONFESSION is all confession, the reader, a priest, sitting raptly, sometimes teary-eyed, behind a dark screen.
— xTx, author of Normally Special, Billie the Bull, and Today I Am a Book
THIS IS NOT A CONFESSION is too gracious to be a manifesto and too lyrical to be a screed. It is a road map, a refutation and a reminder that shame and confusion may well reverberate across time, but at the end of the day we need not be the products of the transgressions visited upon us, not when we search for truth, make art and choose to be the beautiful, complicated creations we were meant to be from the start.
— Ben Tanzer, author of SEX AND DEATH, The New York Stories and Lost in Space
A truly extraordinary piece of writing with a graceful economy of style and zero pretension, THIS IS NOT A CONFESSION is also not "misery memoir. " It is wry and witty and brutally honest without the cheap shock factor. You will want to read it at least twice.
— Sarah Lotz, Author of Day Four and The Three