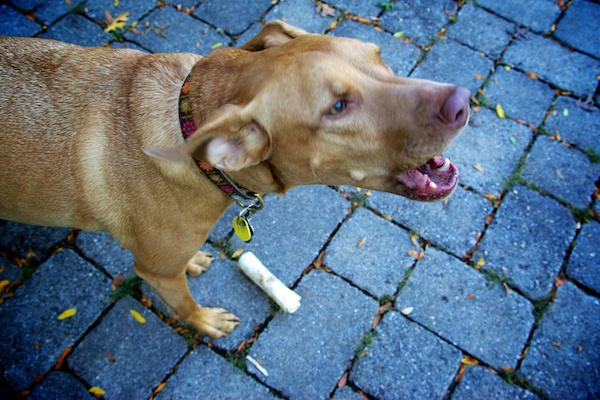 ATTENTION EVERYBODY WITHIN EAR-SHOT, INCLUDING, BUT NOT LIMITED TO, THE BALD MAN, ROTHKO, PEOPLE EAST OF THE HUDSON (INCLUDING EUROPE), THE ENTIRE PROVENCE OF MANITOBA, THE SOUTHERN TIP OF ARGENTINA, AND LOAN HIKERS AT THE TOP OF MOUNT FUJI:
WE ARE NOW ABOUT TO COMMENCE THE BONE GAME, WHEREIN I AM SOLE POSSESSOR OF THE BONE AND THE REST OF YOU ENDEAVOR TO TAKE IT FROM ME. I WILL HOLD THE BONE LOOSELY, SO AS TO GIVE YOU AN ITCHING OPTIMISM REGARDING YOUR PROSPECTS OF BONE THEFT. I MAY EVEN DROP THE BONE AT MY FEET AND LOOK AWAY FROM IT, AS IF I AM CONSIDERING SOME IMPORTANT THING, LIKE THE BLUENESS OF THE SKY, OR THE WAY A TREE SOUNDS IN THE WIND. ANY SLIGHT MOVE, HOWEVER, EITHER DELIBERATELY OR BY ACCIDENT, TOWARD THE BONE WILL RESULT, FIRST, IN RIDICULOUS HELICOPTER-TAIL, FOLLOWED BY LOUD TAUNTS, SIMILAR IN TONE AND VOLUME TO THE ONE YOU ARE EXPERIENCING NOW. THEN, IF FURTHER ADVANCEMENT UPON THE BONE IS MADE, I WILL TAKE IMMEDIATE RECLAMATION OF SAID BONE IN MY JAWS AND JUMP TO A SPOT JUST OUT OF YOUR REACH. THESE RULES WILL THEN BE REPEATED, LEST YOU FORGET THEM.
THANK YOU FOR LISTENING AND GOOD LUCK!
TAGS:
DailyHoney
|
Dogs