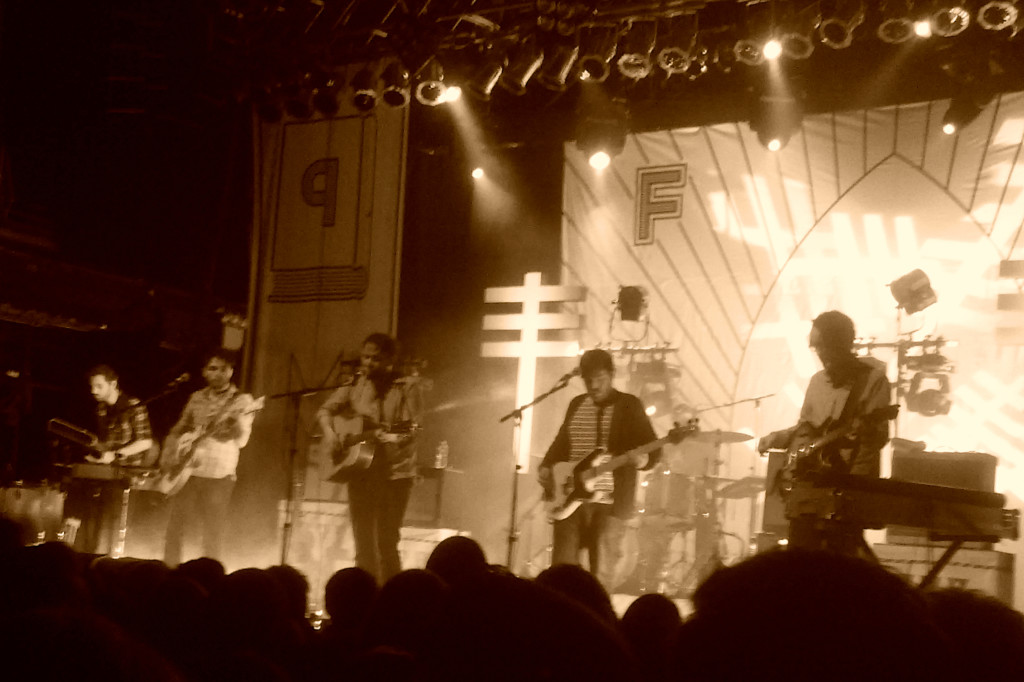 Subtitle: "Playing the Truth"
I tasked myself with writing a concert review for last night's Frightened Rabbit show at Terminal 5 in NYC. I did this for three reasons: 1) I like the music of Frightened Rabbit 2) I am a writer who loves, and plays, music and therefore it seems like I should be somebody who writes the occassional concert review. 3) I'm a contributor and "General Web Helper" (official title) for Fugitive Sounds. The way I saw it, there was really no excuse not to write this review. It was necessary. It was paramount. Potentially cardinal. Indeed, not writing this review might have had calamitous, if not apocalyptic, consequences. The world needed it.
And listen, who am I to deprive the world of anything?
Most of my writing is confessional in nature. Also, I would argue much of Frightened Rabbit's music—Scott Hutchinson's lyrics—have an element of confession in them. So it seems appropriate and consistent and good to maintain that spirit here. We should always begin with what we know.
So here's the confession: I very rarely read concert reviews myself. Even if I like the writer. Even if I like the band. To me, a concert review is just a very poor substitute for physically being at a concert. And if the concert was good, it just makes me feel pissed for missing it. If the concert was bad, well, I mean, is there really much of a point to writing (or reading) a bad concert review?
But as I have already established, most writers of concert reviews probably have not been virtually ordained to write their music reviews. This is a sad reality, and a shortcoming which is no fault of the writer. I do not judge them for it. There is simply no accounting for facts.
Which brings me to the review itself. In thinking upon the nature of the "music review" I felt as though—no it came to me in a vision—that facts were of prime importance. Second to that, were documentation, in the form of photos and videos. And, thirdly, subjectivity: the impressions the concert left upon me. If you want to cut straight to the photos and videos, you can just scroll to the bottom. If you're interested in other facts, like the set list, that is just before the photos, but if you're interested in my subjective impressions of the impression, including the general vibe—and let's not be coy about it: you are—then please read on.
Frightened Rabbit is truly the "people's band." They have a very active and social Twitter feed. Their Twitter (@FRabbits) does what good Twittering should: it feels like a conversation. Last night's show at Terminal 5 felt the same way. Scott Hutchinson paused between songs to talk and crack jokes with the audience.
He talked about his young niece who, when asked what song she would like to hear, responded not with Old MacDonald or Farmer in the Dell or anything like that but an FR song called "Late March, Death March."
He joked about paying the opening band, a Canadian band called Winterhaven—who I should add gave a very rousing and solid opening performance—with one of his "famous hand jobs." Then holding up his hands, emphasized: "these soft, soft hands."
Later, Scott strummed a G chord and got the audience to participate in acting as a "giant accordian" by instructing us to all hum the note as a way to introduce the wildly popular song, "Swim Until You Can't See Land."
"You're the largest, so you should be the loudest!" He shouted, bringing attention to the fact, as he did several times that night, that this Terminal 5 NYC audience comprised the largest of any Frightened Rabbit show to date. I'm sure we will eventually be removed of that designation, but for now I'm honored to have been in that spot.
The audience was very much engaged and there were virtually no early departers from this show that I could tell. At no point did the room feel more connected, however, than during the final song, "The Loneliness and the Scream," when the entire venue clapped and sang the final cry of that song in unison.
That song was the third part of their three-song encore. The audience actually hung around and kept chanting the final cry and clapping even after the band walked off stage, hoping they would come out for one more song. It appeared as though they would because the house music didn't start back up immediately. But after about 3-4 minutes, house music played and so people started shuffling out.
Now let's get to the nitty gritty: The Set List.
Here it is in full:
Holy
The Modern Leper
Old Old Fashioned
Late March, Death March
December's Traditions'
Nothing Like You
Backyard Skulls
Head Rolls Off
Oil Slick
Backwards Walk
State Hospital
Poke (Scott Solo)
Good Arms vs Bad Arms
Swim Until You Can't See Land
Acts of Man
Encore 1: The Woodpile
Encore 2: Living in Color
Encore 3: The Loneliness and the Scream
Almost half the songs in the set list were from their latest album, Pedestrian Verse, which is as it should be since that album is extremely good. My only disappointement was that they did not play "Dead Now," which is my favorite song off that new album. I also would have liked to have seen them play "The Twist," or "Square 9," or "Not Miserable." But it's okay. I don't hold it against them. How could they have known I would have been ordained to write this review.
Now let's get to the important stuff: A few photos.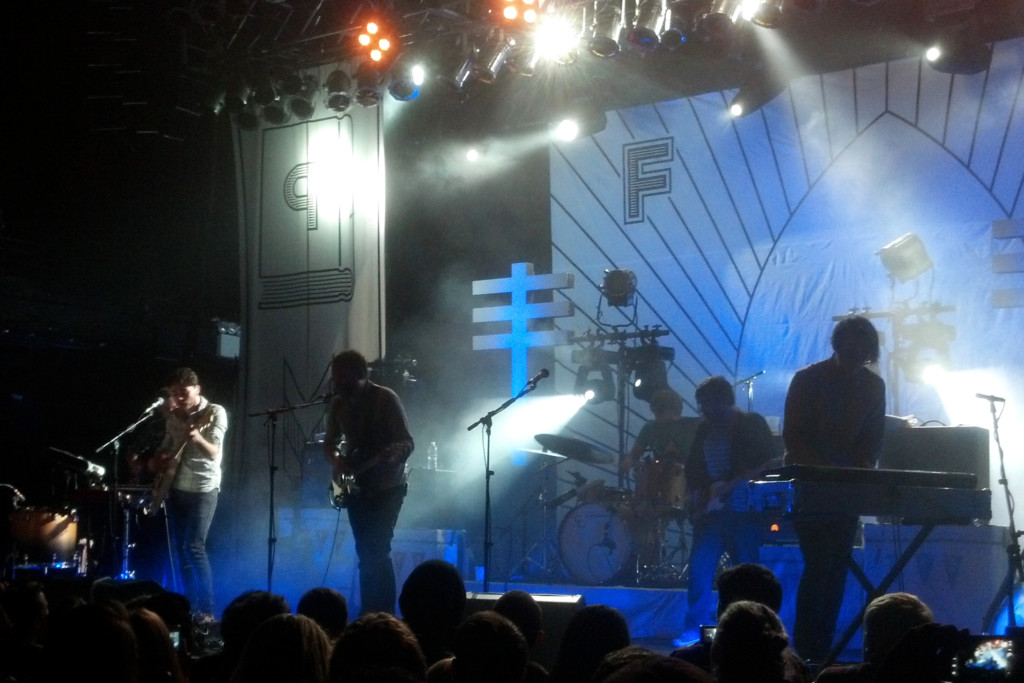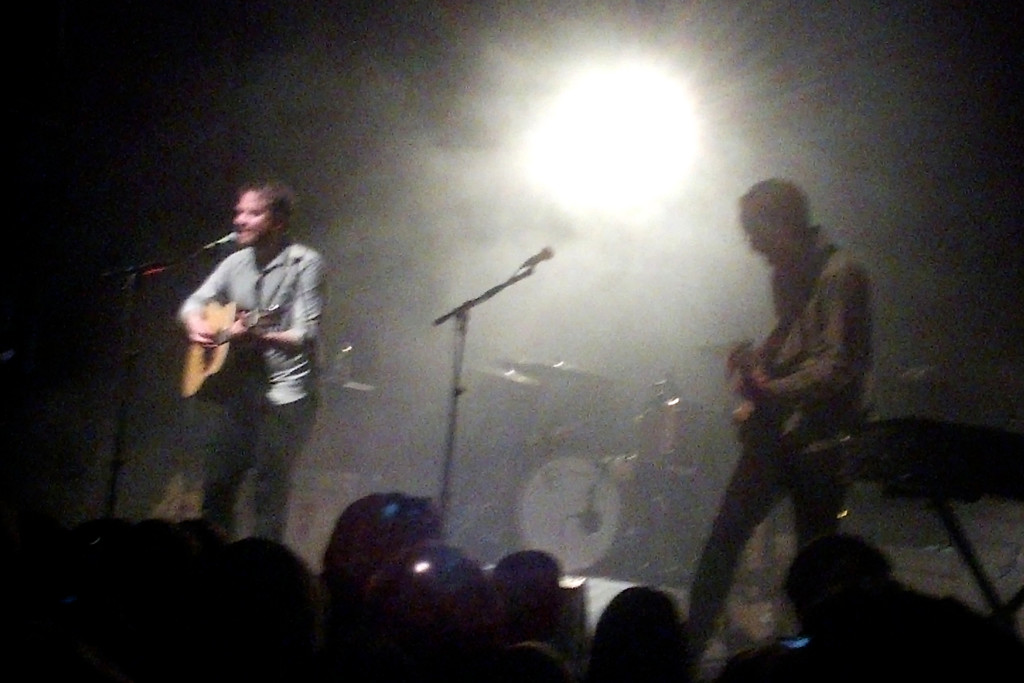 TAGS:
FrightenedRabbit