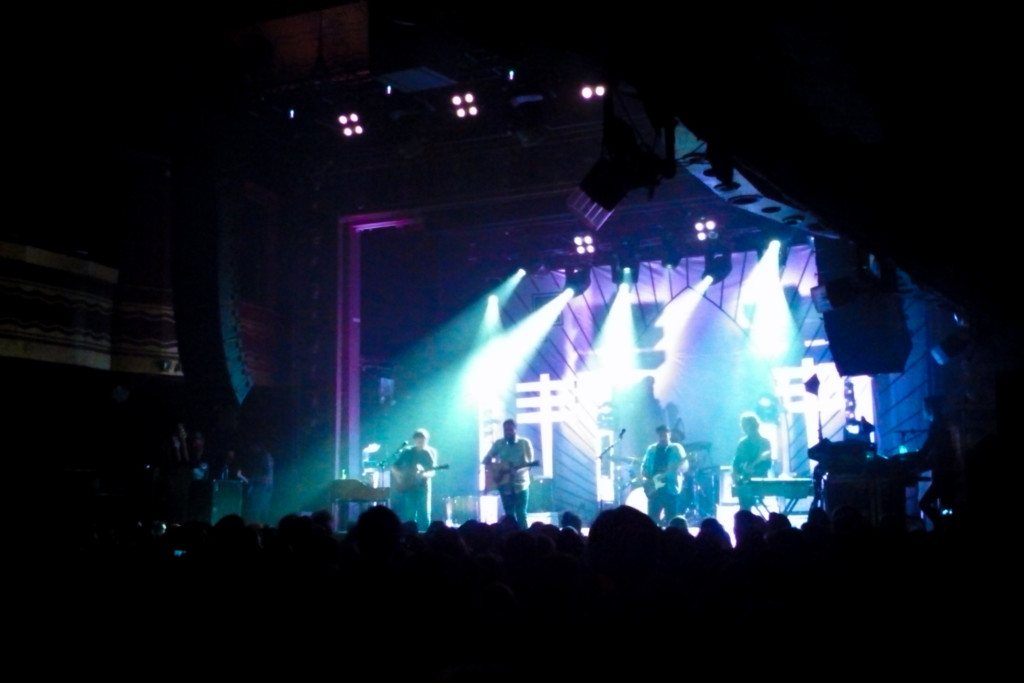 Here's one thing I know: If you stand next to the ATM machine at Webster Hall and put your back to the wall, you can feel the bass squarely in your groin. And this is how I experienced last night's Frightened Rabbit show, with a generously poured Jameson Rocks in my right hand, and only some of it on my shirt. And my boots.
"HOW MUCH DID I MISS?" I shouted to the bartender as I leaned across the bar during the first of two Jameson transactions. He shrugged, screwed up his ironically mustached lip. "This is, like, their second song." This was what I wanted to hear. Because it was also the second song I'd heard. Which meant I came in during the first. And that wasn't so bad. If I'd missed more than that, there's no telling what might have happened.
Here's one thing I think, but which I do not know: the first song was "The Modern Leper." Apropos of my circumstance. Apropos of me. This discombobulation. This adjusting of my concert legs. This finding my place in the room. All of this, and I didn't write that first song down as it happened. And so by the second song, which is when I did the transaction of cash for Jameson, and the shouting to the bartender and the confusing way he tried to chat me up about some other band I had no interest in because, what the hell are you talking about man, I came here to see Frightened Rabbit so why are you talking to me about some other band that you say is probably more popular than them in Scotland, you sad, negative bartender man, but of course, saying none of this and instead, taking my drink in my hand and raising it slightly and saying "cheers," and by the time all of this had happened, I had plum forgot not only the first song, but my general demeanor and sense of myself. But look I think the song was "The Modern Leper." I will stand by that. Or at the very least, I will lean against it. While I close my eyes and feel the bass inside me. The cold, comforting ripple of the whiskey in my hand before me.
It has been an emotional week and listening to live Frightened Rabbit puts a nice cap on it. To go on this musical slide, with "Dead Now" (my favorite) and "Oil Slick." To remember the 5-am subway ride of shame when I first really listened to the lyrics of "Backwards Walk" and "Keep Yourself Warm."
Parents. It is always the parents that do it to us. Scott's parents were in the audience last night. "It's their first trip to New York!" Scott shouted. "Hi, Mom and Dad." And I looked up at the balcony and there they were, and they waved and they were smiling big goddamned smiles. And I thought how amazing it must be to be them at that moment. To be Scott's parents on their first trip to New York City and being in a crowded club with hundreds of strangers, folks who you don't know and who live across the pond, but who, like you, couldn't be happier to see your son and his band playing for them. We all raised our cups. Affected our best Scottish accents: Cheers to you all.
Second Jameson and the sad bartender with his mustache and his 11-dollar generous pour and my four dollar tip. Re-claimed my spot next to the ATM. During the last show, I was closer. In the middle of the crowd. Not exactly comfortable, but with tremendous line-of site. I had an honest to goodness review to write then, so I made sure I was in the thick of it.
But that wasn't happening at this show. I needed my space here. Because I'm old. Because old people need their space. I also needed the support of the ATM machine. I needed the bass in my back and in my groin. I needed to be able to close my eyes and let the music pound against me. I needed to be close to the bar. The photos I took weren't as good, but I enjoyed the show more.
It's good, the having of space.
There's not much more I can tell you. Except go see them.
Oh, and here's the set list:
1. The Modern Leper*
2. Nothing Like You
3. Backyard Skulls
4. Old Fashioned
5. December
6. Dead Now
7. Music Now
8. State Hospital
9. Fast Blood
10. Oil Slick
11. Nitrous Gas
12. Fuck This Place (Scott Solo)
13. Poke (Scott Solo)
14. Backwards Walk
15. Heads Roll Off
16. Acts of Man
17. Woodpile (Encore)
18. Keep Yourself Warm (Encore)
19. Loneliness and the Scream (Encore)
*I'm not positive about the first song. This is my best guess having reconstructed the crime scene in my imagination.
TAGS:
FrightenedRabbit
|
Music
|
Writing