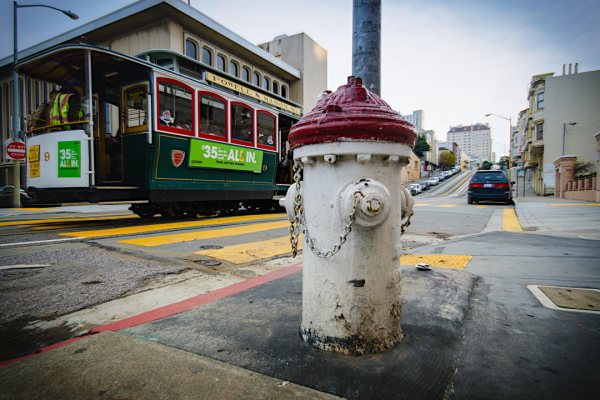 In addition to the skinny, white hydrants which supply water from San Francisco's main water system, there are also "the fatties." These are supplied by The San Francisco Fire Department's high-pressure Auxiliary Water Supply System (AWSS). The AWSS was created after the 1906 Earthquake and the great fire that followed and burned for three days, destroying much of the city. One of the reasons the fire was able to burn for so long was because the main water supply hydrants were unusable because the earthquake had caused many of the water lines to break.
The Virtual Museum of the City of San Francisco has a good article about the AWSS. Here's an excerpt:
The solution was the design and construction of the Auxiliary Water Supply System (AWSS) for fire protection – a separate and distinct water supply system for fire protection use only – with the Fire Department solely responsible for its maintenance, operation and development. Adequate volume and pressure were the primary foundations of the many ideas which eventually evolved into the San Francisco AWSS. More water main pressure meant less dependency on the horse- drawn steam fire engines of the era.

The AWSS remains the only high-pressure network of its type in the United States, and was the only public project funded by the citizenry following the Great Earthquake of 1906. The system was developed with a $5.2 million bond issue approved by the people of San Francisco in 1908.
There are three main reservoirs supplying the AWSS, and the color of the top of the hydrant indicates which reservoir supplies that particular hydrant.
Here's a good breakdown of which reservoir supplies which hydrants.
Basically:
Black Top: Supplied by Twin Peaks Reservoir. (This is also the backbone of the system.)
Blue Top: Lower zone, supplied by Jones Street Tank
Red Top (like the one pictured above): Upper zone, supplied by the Ashbury Street tank.
In addition to the three main reservoirs there are also fireboats, pumping stations, and a network of about 177 cisterns beneath the streets of San Francisco to help fight fires. As a last resort, salt water can be pumped from the bay. Salt water is actually better at fighting fires, but it also has the negative effect of corroding any metal supply lines.
As the AWSS is over 100 years old now, it is in need of repairs.
TAGS:
AWSS
|
California
|
Hydrant
|
Hydrants
|
RedTops
|
San Francisco