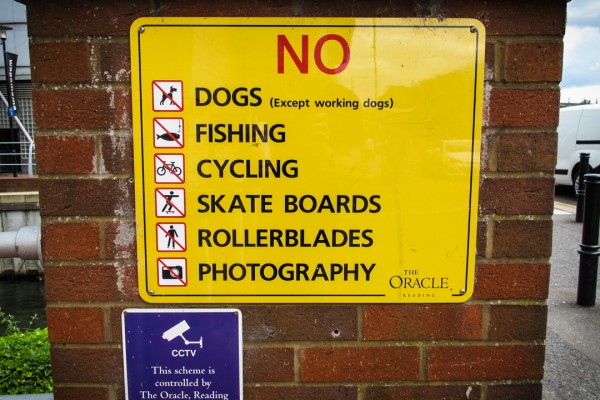 Back in New Jersey, there's a park (Millburn Park) that doesn't allow dogs. I reckon it's to keep the park tidy and clean. I've always felt this was a particularly American thing to do. Europeans I meet at the South Mountain reservation in Jersey always scoff at our restrictive dog laws. Surely the English would have a more laissez-faire attitude about canine companions in open-air spaces. Surely they would never do something like not allow leashed dogs along a hugely popular Riverwalk shopping and restaurant area.
Or… maybe they would. Maybe they would put it on the very top of a rather lengthy list of NO'S that includes… photography? This sign doesn't make me feel at ease after my observations from the other day. *
Related: We're off to kind of a slow and rocky start to finding an apartment and the refrain we hear from the relocation company is, "Well, it's difficult with the dogs."
I feel like saying (politely in an English accent of course): "DO YOU KNOW WHO MY DOGS ARE, MADAM/SIR? WELL? DO YOU?!?"
*Aside: Based on my experience, I'm pretty certain the place I most belong is Northern Virginia. They seem to plan their outdoor shopping centers around dogs.
TAGS:
ReadingUK
|
UK