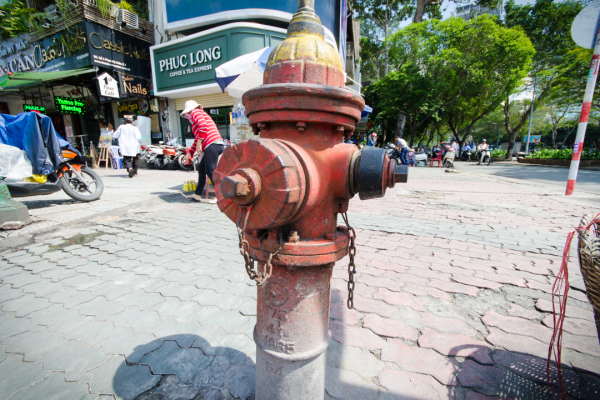 While hot and sweaty and slightly nauseous from moped fumes, we stopped for an iced coffee in Phuc Long in Saigon. We were also avoiding a tuk-tuk driver who wanted us to hire him for the afternoon. (We just wanted to walk, but he thought that was absolutely nuts. And maybe it was.)
C has never been much of a coffee drinker, but she likes the Vietnamese coffees with the sweet condensed milk. So do I. We got two of those. And three waters. The one thing I wish I could convey better in photos is the near-suffocating heat and humidity. You would never guess it was so hot in a lot of the photos I took in Southeast Asia because you'll see locals wearing long-sleeved shirts. Sometimes a couple of layers of them. And not sweating.
I would break a sweat as soon as I walked outside. Some days I'd drench a couple of shirts.
Anyway…
Phuc Long was right across the street from a market full of the pushiest sales people I have ever encountered. Despite this, it was fun to walk through narrow passageways, with people grabbing your arm and imploring you to check out their merchandise (#notaeuphemism) because they have the perfect thing at a price that is JUST FOR YOU. A pair of shorts. An XXXL (maybe this is the only size they get) Tommy Hilfiger shirt. A knock-off purse.
I'm making this all sound terrible, aren't I? The heat, the car fumes, the pushy sales people in the market. But it was great. It was all great.
More on Saigon later. For now I'm sticking to hydrants. Sadly, there weren't a lot of them, so it'll be pretty easy to go through them.
TAGS:
Hydrant
|
Saigon
|
SEAsia