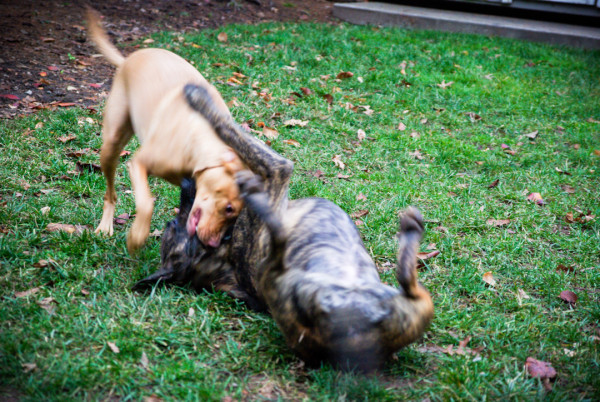 ALL THIS WEEK:
MARCH 16 through 22… challenge my dogs to a fight on social media and get a free copy of my Awst Collection. There are three new pieces in it, and each one is about a challenge and each one involves a fight. The collection is 20 pages and hand-sewn. More on the pieces below.
THE RULES:
I will send you a free print copy of my Awst Collection. All you have to do is take a photo of your pet (dog, cat, rabbit, snake, etc) and then post the photo to Facebook, Twitter, Instagram, or Tumblr with a caption written in the words of your pet goading my dogs for a fight. Be sure to tag me in the post. If you've already bought a collection, I will send it to somebody else of your choosing. Also, I will post my favorite photos on my blog.
Get your photos to me by Midnight Sunday, March 22nd!
There's an example above. The caption to this would be:
Stop fighting like that pansy French poodle Doolin!
Get up! 
Put your spine into it!
The three new pieces in the Awst Collection are:
Parabolic Path
Excerpt:
When I threw the stick at Jaime, I hadn't intended to hit him with it. But the moment it left my hand, I knew that's what was going to happen. I didn't yet know any calculus or geometry, but I was able to plot, with some degree of certainty, the trajectory of that stick. The initial velocity, the acceleration, the impact. The mathematical likelihood of Jaime's bloody cheek.
Variations on a Theme
Excerpt:
And with the warm, wet concrete underneath our pruned feet, the August sun on our exposed, SPF-free skin, a battle of rat-tail towel whips commenced between two boys who were ten if we were any age at all. No armor except for swim trunks. Just the growing number of red welts on our bodies, which we showed off to one-another, like medals. Proof of our toughness. For the things we each had learned to be tough against.
Storm of Calculations
Excerpt:
And I stood there with everything muted. I stood there with my arms outstretched and my neck clamped tight and I felt nothing and it was immaculate. The will to move. The will to fight back. The will to survive. All gone. I closed my eyes and focused on my thin breathing and everything went quiet and lovely and I let it.
Every drop of anger and frustration I had ever felt over anything unjust that escaped my control rose up in me and said, Well, go on then you fucking bastards. Do it.
TAGS:
Awst
|
DailyHoney
|
DailyRothko
|
Dogs
|
Doolin
|
Writing